Welcome to Peak Performance!
Get fit and get moving with our menu of high and low impact fitness classes, stretching and toning classes or learn jazz, belly, hiphop or ballroom dancing from our world-class dance instructors. Our fitness instructors are certified by the Association of Fitness Professionals of the Philippines (AFPP) and have taught or trained at the leading gyms in the country. Our classes range from fast-paced cardio dance, cardio boxing and hiphop to stretch-and-tone classes like pilates, bellydancing or yoga; and if you can't find a schedule that suits you, we can create a class for you and your friends during sundays at your preferred time.
Unlike other gyms and fitness centers we have NO joining fees or annual membership fees. You can just walk in and take any class you choose; or you can avail of our PEAK PASS to get 4 to 20 sessions on any class at lower-than-walk-in rates.
Our studios are equipped with a state-of-the-art-sound system and a raised resilient flooring system to provide optimum movement and bounce without the risk of getting shin splints or other injuries. We make every precaution to keep our classes safe yet effective and promise to give you an enjoyable workout or dance session.
Our studio is open daily from 8 am to 8 pm. Try us out and get a great workout!
Contact us now for inquiries, slot reservations and class schedules.
Peak Photos
Take a glimpse into the world of dance and fitness through some class and recital photos.

Summer Dance Workshop 2006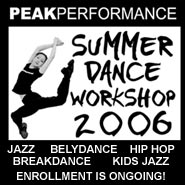 Beginner's Belly Dance Orientation Class
Ease your way into the wonderful world of belly dancing with the beginner's orientation class. A two-hour session for belly dance virgins where you will be introduced to all the basic moves. Held every last friday of the month. CALL US NOW!
Exotic Bellydancing